As you're preparing for the new year, you're feeling pulled into a new direction and encouraged by what lies on the horizon. Maybe you're already an entrepreneur looking for more freedom, creativity, and an outlet to do what sets your soul on fire, or maybe you're a stay at home mom looking to live out your purpose as a mother and also help your family financially. Whatever it may be, if you're wondering how to start a profitable blog in 2020, you've come to the right place.
Disclaimer: This post contains affiliate links. This means we may earn a commission (at no cost to you!) should you choose to sign up for a program or make a purchase using our links. It's okay – we use and love all of these programs, and you will too!!
In April 2018, we closed a chapter in our business as Wedding Planners and jumped head first into the world of blogging. We both felt a pull into a new direction, and after opening our hearts to one another, we realized we were on the same page. While we loved planning weddings, we both knew we really wanted to hone in on our purpose and reach those we were called to help.
A year and half later, we can honestly say blogging full time was the best business decision we've made to date.
Some wonder what it is we actually do, how we make a profit, or how we continued to bring in an income during our six-month maternity leave, and we wouldn't be living out our purpose if we didn't take the time to share with you all the in's and out's to starting a profitable blog in 2020.
How to Start a Profitable Blog in 2020

Your Solution is Your Why
We all have passions, gifts, and a wealth of knowledge to share with the world. Someone out there is struggling with something or wondering how to solve a problem, and you have the solution. You've been gifted the knowledge on how to streamline an area of life, make something beautiful, do something with ease, or bring something to life, and your solution to their problem is your why.
First, determine the 'why' behind the goal of starting a blog. This 'why' will drive every move in bringing the blog to fruition and help you hone in on your niche.
The truth is, we can't do it all and do it well. Sure, there may be a successful home blogger you follow on Instagram that inspires you to start a home decor blog, but you're really passionate about helping mothers through the toddler years because you've been there and found practical ways to find joy in the tantrums and the blessings in the mess. Hone in on what drives you so you can pour that wisdom into someone who is longing to soak it in.
Define Your Niche
Once you have spent some time doing the "heart work" of defining your 'why,' it's time to define your niche. A niche is also known as an ideal position – or a specialized segment of the market for a particular kind of product or service. Defining your niche sets you up for success for a profitable blog in 2020. This lets your readers know they are in the right place for XYZ. Set yourself up as an expert in that particular market, and by doing so, your readers will trust you, value your opinion, and turn to you when they need advice or a problem solved.
Taking the Jump and the Tools That Will Help You
The best piece of advice we've received over the years about starting a business was to not have a Plan B, because Plan A would never work out. You were called to blogging for a reason and the only way you'll reach your goals is if you jump! Want to know the best part? We live in a time where there are many tools available to set you up for success and help you start a profitable blog in 2020!
We wouldn't be where we are today if it weren't for these specific tools and software. They not only helped us streamline communication with our partners, brands and clients, keep track of invoices and leads, they have also helped us define our brand aesthetically, produce quality content, AND make passive income!
Are you ready to get started? Let's do this! Here are the EXACT STEPS we took to launch www.thebusybee.co, blog full time, and take a six-month paid maternity leave all within the last year and a half!
How to Start a Profitable Blog in 2020
Get technical:
SiteGround

Website Hosting, Website Platforms, Themes, this or that? Gibberish, right? After researching and consulting with SEO and Website Experts, we've realized it doesn't have to be. It's actually quite simple and affordable!
A website host and platform are essential for your blog as well has having unlimited internet. Consider them as your blog's home here on the internet. We knew we wanted a reliable and high performance web hosting service that had great technical support because let's be real, we're only as technical as YouTube has taught us to be. After a lot of recommendations, we found SiteGround and WordPress.org to be the best duo for our blog.
User friendly!!
WordPress Installation
Automated Migrations
Expert WordPress Support (A MUST!)
Free Site Builder
Free Daily Backups
30 Days Money Back Guarantee 
You can start your blog with as little as $3.95/month!
Select "Get Plan."

Choose a domain that is available or register a domain you already own.

Review & Complete!
What we love?
Like we mentioned before, we are only as technical as YouTube has taught us to be, and the fact that we can use SiteGround with little to no help says a lot. When we do have a question, their 24/7 online support has been a great tool in getting our questions answered right away!
Get on Brand:
17th Avenue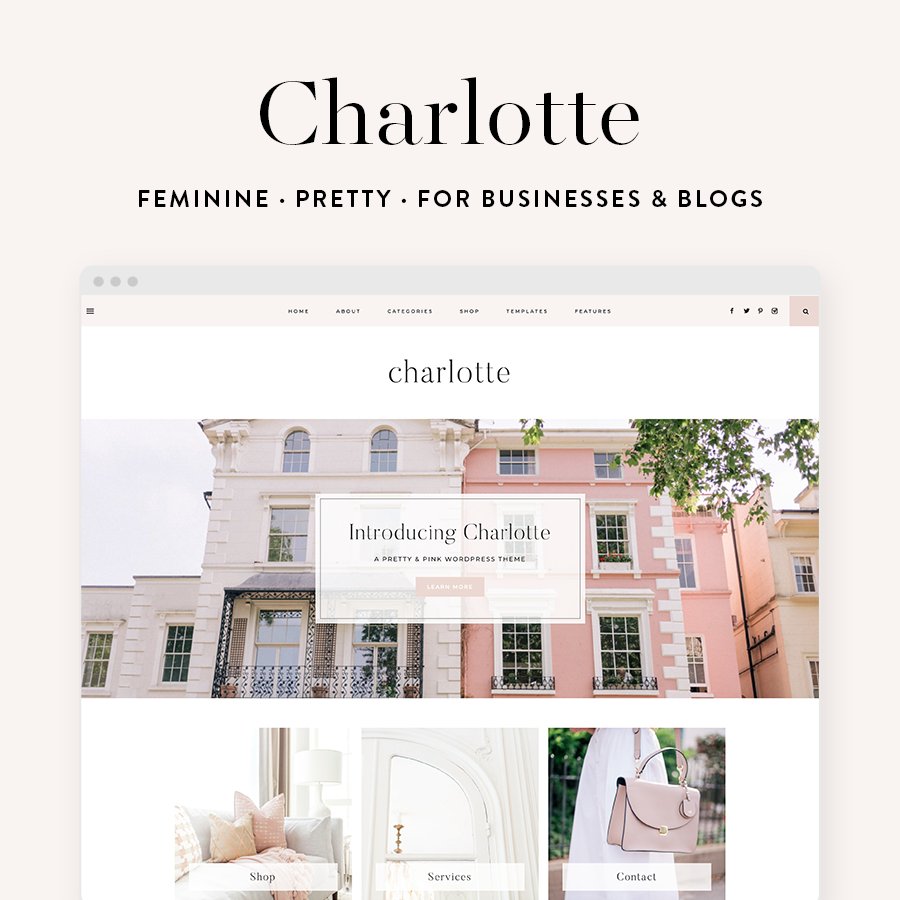 We have experience in website design, however, over the years we have come to the realization our time is valuable. We didn't have much time to waste when transitioning our business from full time Wedding Planning to full time Blogging, and we're grateful for 17th Avenue for bringing our visions to life, and helping The Bee stay on brand aesthetically without taking much of our time.
When a reader visits your blog, you have eight seconds to capture their attention. That is to say, every bit of those eight seconds matters, and we highly recommend choosing a welcoming theme in which your guests feel invited to stay as long as they'd like.
17th Avenue saved us time by offering stylish, customizable, and affordable website themes that only took one day to install and launch our blog!
Gorgeous Typography
Responsive Themes
Functional Features
Flexibility
WordPress Themes Designed to Convert
Library of Setup Tools
Option to let 17th Avenue Install and Customize for you!
Genesis Framework Included (a $59.99 value FOR FREE)
Affordable!!
What we love?
If you were to browse 'Website Themes,' you'd come to find that they're either too plain or too expensive. Choosing a custom path and hiring a designer will cost a lot up front and may take some more time in the long run. On the other hand, you may have some experience in designing websites, but that's just another thing to add to your list of to do's and may possibly push your launch date back. Why not opt to have the heavy work completed for you, and beautifully at that, and get to work TODAY?!
We love 17th Avenue because their themes are affordable, easily customizable, and designed specifically for Creative Entrepreneurs and Bloggers such as yourself!
With attention to detail, 17th Avenue has thought of everything, and their templates include: Email Marketing, Featured Content, WooCommerce, Responsive Themes, Forms, and so much more.
Their themes are user friendly and include a detailed library of setup tools that walk you through installing and customizing your website! Within days, your first blog post will be published, and you'll be reaching your target market in no time!
Get Organized:
HoneyBook
A key component to remember when starting a profitable blog in 2020 is your blog is your business! Repeat this over and over again, share that statement with friends and loved ones, and write it in your planner or on your mirror. Sometimes, it can be hard to remember because you're doing what you love and the work doesn't actually feel like work (Can you say dream job?!), but the truth is your blog is a business and must be treated like one in order to grow and be profitable.
After getting all the technical and pretty steps out of the way, it's time to get into the nitty-gritty and get organized. HoneyBook is the one stop shop software for all of your blogging needs. From organizing communication with Brands and Partners (think scheduling, sending invoices, and proposals) to tracking your leads and projects, HoneyBook will streamline your business, keep you organized, and ease the business side of running a blog so you can get back to what matters most: your content and your readers.
Project Pipeline
Proposals
Contracts
Brochures
Calendar
Reports
Task Managers
Contact Forms
Time Tracker
Bookkeeping
Workflows (fully customizable & automatic – um, HELLO!)
Lead Capture
Opportunities (to find employees, partnerships and/or job opportunities)
Payments
What we love?
HoneyBook is an all-inclusive, user friendly CRM (customer relationship management) software which helps you run your blog as a successful business. Once, we read a quote that said, "You won't survive as an entrepreneur if you treat your business like a hobby," and we're here to say it's true! Others won't treat your blog like a business until you do, and HoneyBook is the exact tool you need to turn your passions into profits. From customizable templates and branding options, to automated workflows and time trackers, HoneyBook will allow you to run your business with less effort and more intention.
Protect Your Business
The Contract Shop
As we stated above, if you're aiming to profit from your blog, then it is considered a business. With that, it is important to protect it from a legal standpoint. And before doing so, it is important to understand what is required by law and what isn't to ensure you cover all of your bases. In our opinion, there are two vital forms of protection you should include on your blog site that are easily accessible and easy to understand. These are especially important if your site is public, you intend to collect data (i.e. email addresses) and if you advertise or plan to do so.
The first is a Terms & Conditions agreement. This agreement is not required by law but it is highly recommended. It essentially establishes the rules every reader or visitor to your site must agree to and then follow in order to use your website. It helps prevent visitors from abusing the use of your site (i.e. spamming other users or attempting to infect your site with malware), protects your intellectual property by defining what you legally own (intellectual property) as well as copyright laws, defines when you have a right to terminate the use of a visitor, limits your liability for any errors your content may present and sets the governing law, or what jurisdiction applies to the terms in your agreement.
The second is a Privacy Policy. A Privacy Policy is required by law if you collect personal data from your site visitors such as email addresses and names. In short, a Privacy Policy states the kind of information you collect from your website visitors and what you or your business will do with that information. Even if you do not intend to misuse your users' data, their data is always at potential risk because hackers do exist. Furthermore, if you are collecting email addresses to send email or collecting data to review website analytics or for advertising purposes, we want to remind you a Privacy Policy is required by law.
But once you've determined which legal assets you want and need to include on your site, you might find it hard to hire someone who can help you write these legal protections for you at an affordable price. Enter The Contract Shop® . The Contract Shop® provides all the legal paperwork you need to run your blog like a business. The best part? It doesn't require expensive attorney fees!
What we love?
The Contract Shop® allows you to put all your legal documentation in place in just a few easy steps in order protect your business. All of the digital files you purchase are delivered immediately  to your inbox and can be downloaded right from the checkout page! You simply open the templates and fill in the blanks with your business information. You also gain access to the K-Club when you make a purchase, which is an exclusive membership portal that holds your hand through each provision of your template. And if you're not satisfied with your purchase, The Contract Shop® offers a 14-day happiness policy and will work with you to make sure you're happy, even if it means they provide a full refund.
Get to Work:
Grammarly
Now that you've completed all the back end tasks, it's time to get to work! This step should come easy to you because this is where your passions come to life and your words get the opportunity to reach others. Remember, do not post just to post. Every piece of content you put out into the world should be valuable. This is very important to remember when starting a profitable blog in 2020 because you're end goal is to get paid for your hard work. Grammarly will help you do just that: create valuable content. The best part? It is completely FREE.
Free Writing Assistant
Detects Tone of Voice
Works Where You Do: Blog, Email, Documents and Projects, Text Messages, Social Media
Eliminates Errors
Premium Plans for as little as $11/month

Readability (A great tool to rank higher on Google!)
Vocabulary Enhancement Suggestions
Genre-specific Writing Style Checks
Plagiarism Detector
What we love?
Blogging is a huge industry, and depending on your niche, you may feel a little overwhelmed by the amount of content that gets shared every day. Grammarly becomes your partner in creating quality content in a saturated world. Quality content means higher rankings on Google, higher rankings on Google means you'll gain more readers who value what you have to say, and more readers who value what you have to say means they'll invest in what you share, which means, you, our friend, now have a profitable blog!
Grammarly is a FREE tool and there is no risk for signing up. It is simple to install and makes editing a breeze! If a word is misspelled or a punctuation mark is missing, Grammarly will tell you the corrections needed and inputs them for you with a click of a button. Download this free writing assistant and get to writing!
Tip: We suggest writing at least five blog posts before launching your website. Be sure to build some hype and excitement around your blog launch and be proud as your readers binge your quality content on day one!
Get Creative:
Canva
Quality content must be visually appealing, and now that you're one step closer to launching your blog, the next step is to get creative.
Canva is our go-to for creating Blog Graphics, Social Media Posts, Pinterest Graphics, and so much more. Canva is an online graphic design tool that can be used on both a computer and a phone. When creating visual content, design pieces for each of the social platforms you'll be sharing: Pinterest, Instagram, Facebook, etc. and choose from Canva's customizable templates to bring visual content to life.
Design Anything
Pro Plan for only $9.95/month

4M+ Photos & Elements
1,000+ Fonts and the Option to Upload Your Own
Brand Kit (This is so important to streamlining your design work and saves you time!)
Unlimited Folders
Resize to any Format
Create Animations and GIFs
Unlimited Support
What we love?
We have years of experience with Photoshop and Illustrator and yet, we use Canva every day. Canva offers templates for every type of design and there is no need to remember size requirements for each platform. This is a huge time saver for entrepreneurs. Also, we love the organized folders Canva offers. Simply upload your images by name, and refer back to those specific folders in the years to come. Gone are the days of trying to find graphics from previous years.
Get Social:
Planoly
At this point you've determined your 'why,' defined your niche, set up your blog, written your first pieces, and created visual content to share with your readers, and now you've reached the final step to starting a profitable blog in 2020: Get social!
It's time to share your hard work with the world. Create a content calendar to set yourself up for success. Over the years we've learned it's best to have a plan for social media versus trying to decide what to post and when to post last minute. Having a plan allows you to share your best content at the best times to reach your target market. A content calendar means less scrambling and more strategic planning.
Planoly has always been our go-to for planning and posting our content to all social media platforms. Our number one reason for choosing Planoly? It allows you to plan content visually! We plan our content months in advance, and Planoly allows us to see how our feed is going to look to our followers.
30 posts FREE Each Month
Drag & Drop Feature
Schedule Content
Draft Captions
Track Analytics to Better Understand your Audience
Manage and Reply to Comments in One Place
Draft Multiple Grids before Planning
Plan, Arrange, and Draft Stories
Pinterest Planner (Pin Planner)
Stories Creator (StoriesEdit)
Add Shoplink
What we love?
We've been using Planoly for MANY years now, and we couldn't imagine running our business without it. In order to reach our readers, we know it's important to be sharing our content on all social media platforms. There was a time when we were scrambling, trying to think what to write in our captions, what time to post, etc, and we realized we were working harder, not smarter.
Enter Planoly. Planoly has allowed us to gain time back into our days, plan our monthly content with zero stress, and reach our readers at the exact times they're online. Thanks to Planoly's analytics, we're able to reach our readers and no longer worry if our content is getting lost in the algorithms.
Flodesk
While there is so much value in social media and sharing your content with your followers, we cannot stress the importance of Email Marketing enough. Email is the one platform in which you have control and will soon become the #1 way to bring in a profit from your blog. Instagram and Facebook have created algorithms which may cause your content to get lost. Have you ever seen a post from someone you follow on Instagram days after it was actually posted? Frustrating, right? Email Marketing allows you to reach your audience at the exact times you choose and let's be real, everyone checks their email daily. Serve your audience by showing up consistently and gift them the valuable content you've worked so hard on.
This is where Flodesk comes in. Flodesk is the #1 Email Marketing tool that creates beautiful branded email campaigns and is simple to use! We love the ability to choose from stunning templates, drag and drop our images in, and wow our audience regularly without the hassle.
Beautiful Templates
Create Emails People actually LOVE to get in their Inbox
Grow your business
Look Great on all Devices
Simple to use
Change Fonts, Colors, Layouts, etc to stay on Brand
Forms that integrate with your website to convert leads (can be used on any device!)
Insights to help you become a Marketing Expert (no more guessing games!)
Automated Workflows
What we love?
Have you ever received an email that captured your attention immediately because it was visually appealing? One of our favorite things growing up was reading magazines and being drawn to how they were laid out each month. Flodesk offers email templates that will capture your reader's attention like a beautifully crafted magazine. Flodesk makes it easy to send visually detailed emails by simply dragging and dropping in your logo, images, and content into the template and sending to your email list at the exact time they'll open it (thanks to their amazing insights!)
Finally, we love the fact that Flodesk saves us time and gives us the ability to automate our business. Time and community are valuable to us and Flodesk focuses on both – simple templates and the ability to reach our readers.
You've Got This
All in all, we're here to say, "You've got this." There is someone out there counting on you. You bring value into this world, and we encourage you to live out your calling! Now that you have the tools to set yourself up for success, it's time to jump in, never look back, and launch your profitable blog in 2020!
Have any questions we can help answer? Feel free to email us at hello@thebusybeeevents.com or leave a comment below. We'd love to hear from you!